Regarding environmental issues, we are a company that uses refrigerant gases.
In order to protect the environment, we comply with Freon (CFC) recovery destruction and perform proper Freon (CFC) treatment.
Our company has registered as a first-class Freon (CFC) collector in each prefecture, and all the service personnel have obtained the qualifications of refrigerant collecting engineers issued by the Refrigerant Recycling Promotion and Technology Center.
We are actively developing DC inverter chillers that save energy from the viewpoint of environmental protection. In addition, we are trying not to use 6 hazardous substances of ROHS.
---
Environmental initiatives
Freon that destroys the ozone layer are called a CFC (chlorofluorocarbon) that contain chlorine in addition to carbon and fluorine.
Freon was developed in the United States as a cooling refrigerant in 1928, and later became widely used as a refrigerant for refrigerators and air conditioners, and as a semiconductor cleaning agent.
However, fluorine and carbon compounds have excellent characteristics, they are tasteless, odorless, non-flammable, easy to liquefy, harmless to humans, and non-toxic. However, they will last forever and destroy the ozone layer.

Source:Ministry of the Environment(http://www.env.go.jp/earth/ozone/pamph/2018/2018_ozone_whole.pdf)
- Discovery of the ozone hole.
Developed in 1928 as an ideal gas for refrigerants such as refrigerators, Freon (CFC / HCFC) was found to destroy the ozone layer in 1974. In 1985, an ozone hole was discovered in the South Pole. The ozone hole appears around August every year, increases from September to October, and disappears from November to December.
In Japan, the production of major ozone-depleting substances such as CFC has already been completely abolished at the end of 1995 based on the "Montreal Protocol on Substances that Deplete the Ozone Layer". HCFC Phase-out will be accomplished in 2020, and methyl bromide was completely abolished in 2010. However, recovery of gas and equipment produced in the past is an issue.
Freon regulation
The Freon Recovery and Destruction Law was amended and came into effect on April 1, 2015 as the "Law Concerning the Rational Use of Freon and the Appropriate Management" (abbreviated "Freon Emission Control Law").
Please refer to the Ministry of Economy, Trade and Industry's CFC Emission Control Law portal site.
http://www.env.go.jp/earth/furon/
- What is Freon
Freon is a general term for fluorocarbons (compounds of fluorine and carbon), CFC (chlorofluorocarbon), HCFC (hydrochlorofluorocarbon), HFC (hydrofluorocarbon).
Are called chlorofluorocarbons in the chlorofluorocarbon emission control law.
Freon gas is chemically stable and easy to handle, and has low toxicity to the human body. It is used in various applications such as cleaning agents and aerosols for semiconductors and precision parts.
However, since the impact on the global environment, such as the destruction of the ozone layer and global warming, has been clarified, alternatives substances with less impact are being promoted.
Outline of abbreviated "Freon Emission Control Law"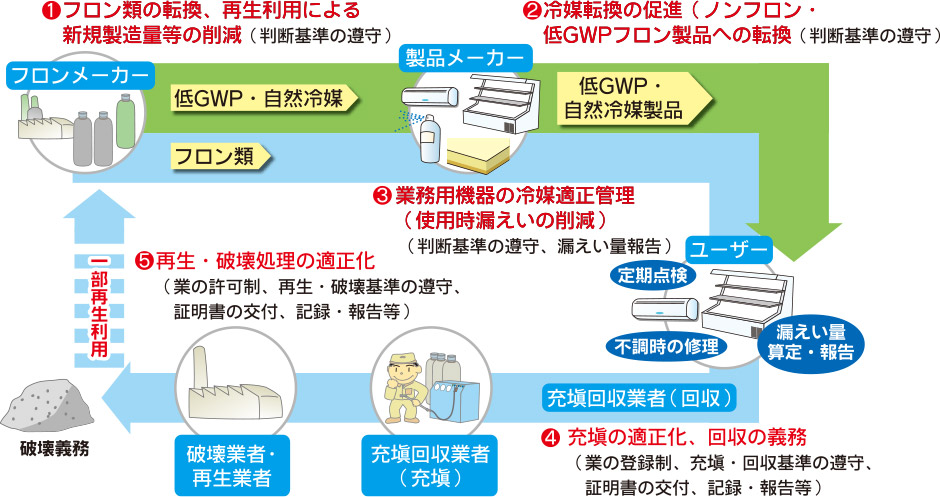 Source:Ministry of the Environment(http://www.env.go.jp/earth/ozone/pamph/2018/2018_ozone_whole.pdf)
---
- What is the target of the system = "manager"
Owners of commercial air-conditioning equipment and freezing / refrigeration equipment are subject to the Freon Emission Control Law as managers of 1st-class specified products and implementers of disposal.
※Agriculture, forestry and fisheries such as offices and buildings, retail stores such as supermarkets, convenience stores, grocery stores, drug stores, industrial product manufacturing factories and research facilities, refrigerated warehouses, railways, ships, aircraft, food factories, fishing boats, and plastic houses Refrigeration and air-conditioning equipment installed in a wide range of facilities, including public facilities such as government offices, various halls, schools, and hospitals, are subject to the law.
What is an administrator?
As a general rule, the owner of the product is the administrator.
However, as an exception, if it is assumed that other than the owner is responsible for maintenance / repair in documents such as contracts, that person becomes the administrator.
※If you are entrusted with maintenance work such as maintenance, inspection, etc., it is the maintenance and repair duties that are performed, so the client is the administrator.
※If it is unclear whether the owner or the user is an administrator, first confirm the current contract between the owner and the user and clarify which one the administrator falls under.
判断例

Source:Ministry of the Environment(http://www.env.go.jp/earth/furon/files/tokutei_yakuwari.pdf)
---
- What is the target of the system = "1st specified products"?
"Class 1 specified products" are commercial air conditioning equipment (air conditioners) and refrigeration equipment that use chlorofluorocarbons as refrigerants. (Excluding Type 2 specified products.)
"Commercial use" means equipment manufactured and imported by the manufacturer for business use. Even if the purpose of use is for Consumer use, the manufacturer may sell it for home use. Please contact the manufacturer in advance.
---
Administrator roles and responsibilities
Please refer to the following "Ministry of Environment and Roles and Responsibilities of Type 1 Specific Product Administrators" of the Ministry of the Environment.
http://www.env.go.jp/earth/furon/files/tokutei_yakuwari.pdf
Mandatory simple inspection at least once every three months for all first-class specific products (commercial refrigeration and air-conditioning equipment) is. (There is no specific limitation of the Inspection engineer.)
first-class specified products (commercial refrigeration and air-conditioning equipment), periodic inspections are required at least once a year for equipment whose rated output of the motor used in the compressor is 7.5kW or more. (Air conditioning equipment less than 50kW is at least once every three years)(Performed by those with sufficient knowledge.)
In order to perform appropriate equipment management, the administrator must record the history of equipment inspection and repair, refrigerant charging / recovery, etc. for each equipment.


※If the equipment inspection / maintenance is outsourced to a filling- collecting contractor, the filling - collecting contractor may record the inspection / maintenance results in the inspection / maintenance record book.

The inspection / maintenance record book must be kept in paper or electromagnetic records until the equipment is discarded at the office.
Source:Ministry of the Environment(http://www.env.go.jp/earth/furon/files/tokutei_yakuwari.pdf)