We are managing the delivery records, installation records,
and periodic maintenance and inspections to provide our best service support for the customer.
---
Maintenance Base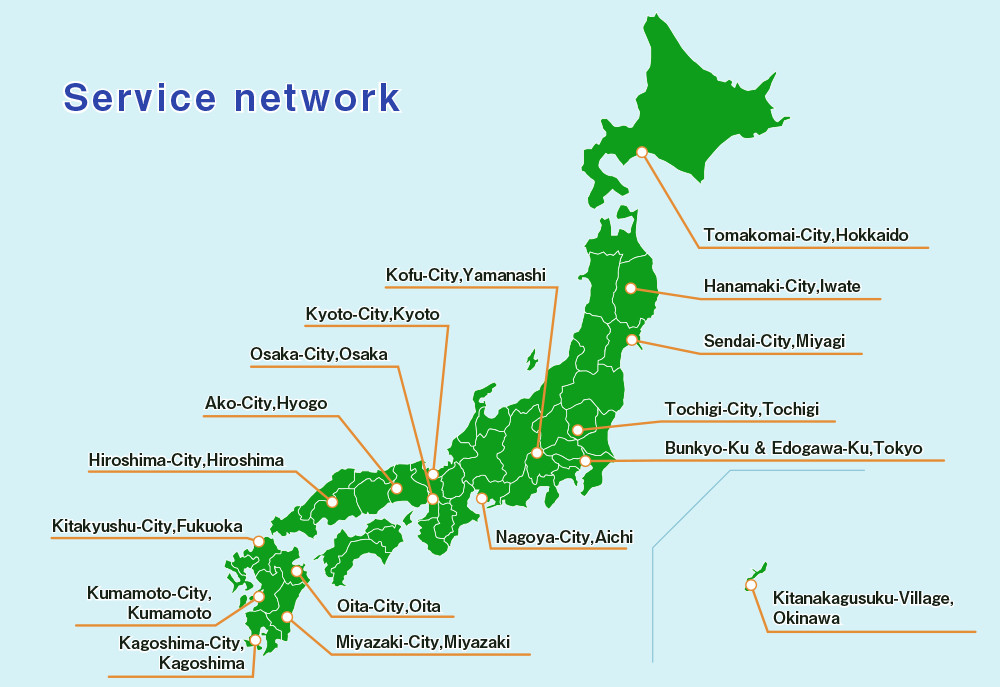 Tomakomai-City, Hokkaido
Hanamaki-City, Iwate
Sendai-City, Miyagi
Tochigi-City,Tochigi
Bunkyo-Ku, Tokyo
Edogawa-Ku, Tokyo
Kofu-City, Yamanashi
Nagoya-City, Aichi
Kyoto-City, Kyoto
Osaka-City, Osaka
Ako-City, Hyogo
Hiroshima-City, Hiroshima
Kitakyushu-City, Fukuoka
Oita-City, Oita
Kumamoto-City, Kumamoto
Miyazaki-City, Miyazaki
Kagoshima-City, Kagoshima
Kitanakagusuku-Village, Okinawa
Service Policy
We believe that reliable service support is of the utmost importance for customer satisfaction.
The information about our installed equipment including; delivery records, installation records and periodic maintenance records is carefully managed by our service center.
In addition, we have cooperative service companies in major locations and to provide service support, repair, periodic maintenance and inspection.
After regular hours (after 5pm) or on weekends, holidays, or even at night, you can call our service center, it will be transferred to the mobile phone of the person in charge.
Customers who have purchased our water chillers are provided with a mobile phone number of sales person and/or service person.
Customers can contact our service and support team even on holidays and after regular hours.